This piece was originally written for Justin Leopold's Memorial Service.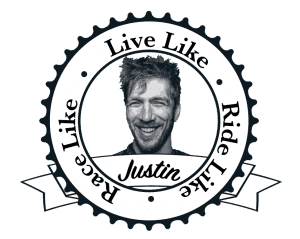 I first met Justin in the Spring of 2012. He had recently moved back to Independence and was joining us for the first of many weekly rides. Three of us ended up off the front and were taking pulls down Blue Mills Road. After a while, I noticed that Justin wasn't pulling to the back after his turns on the front, he would simply pull off to the side, hanging out in the wind. Once his turn at the front came, he would slide back in and take another pull.
We tried to give him a few pointers, letting him know that he would save some energy if he would sit in and keep his nose out of the wind between pulls. He just continued on, and we laughed it off as a hard lesson learned. It was only later that I realized he wasn't out there because he didn't know what he was doing, he was out there because he didn't want, or maybe he didn't need the rest.
Since that day we have ridden an endless number of miles together; sometimes we were racing, sometimes we were just riding. Whether it was our regular weekly hammer-fests or the two of us on a quiet midnight ride out into the countryside, we had some memorable and treasured times together, and I consider myself lucky for having known him for the past six years.
When Ally asked me to say something about Justin, I started to think about those six years of friendship, trying to come up with some great anecdote to share with everyone.
After much contemplation, what I came up with wasn't some great story of Justin closing an impossible gap, or holding onto an impossible lead, although there are plenty of those. It isn't a memory of some epic ride together, there are some of those too.
What really comes to mind are memories of many hours spent on the trainer in his unheated basement with temperatures hovering just north of zero and memories of long miles and deep conversations on Saturday mornings. There are the memories of racing alongside one another and working together, despite riding for different teams. There are the memories of post-ride beers, mid-ride pizza, wrenching in his makeshift shop, and there is the memory of that midnight ride, just the two of us putting in the miles and having the chance to talk about life, hopes, dreams, and of course, bikes.
I realized it isn't the grand moments we are going to miss, it is all the little ones.
I don't think we really remember people for how we felt about them. It is how they made us feel about ourselves, that is what we really remember. Justin had a special talent for making everyone feel welcomed. He always had a moment to spare for the new rider whose bike, or riding, could use a tweak. He shared his knowledge and offered advice in a way that was unassuming and disarming. He made everyone feel like they could accomplish more without making them feel like they were accomplishing less. He took delight in everyone's successes – from a new rider finally hanging onto the pack, to a great performance in a race. That is why this room is filled with so many people whose hearts had so much more friendship, love, and time to share.
Recently, I posted that cycling is unique; the bonds you form with people while cycling are also unique. With all the distractions out there today, even when we are with our friends and family, people are usually more interested in the phone in their hand than the company they are with.
There are few things in life these days that give us the time and focus to really get to know the people in our lives. Cycling gives us hundreds of miles and hours upon hours to connect. There are no distractions, nothing else fighting for our attention. There are just miles of open road in front of us, and good friends beside us.
It allows us to connect in a way that we, as a society, really don't connect anymore. We are not connected to our cycling friends through sound bites, posts, pictures, and memes; we are connected through shared suffering, shared experiences, deep conversations, and truly getting to know those we ride with.
The cycling family's ties run deep, and Justin was a part of our cycling family. When we suffer a loss, especially one as seemingly senseless as this, the loss is felt equally deep. There is always a hole left in the peloton; it is a gap that can't be closed.
I have spent more miles than I can count trying to close down gaps to Justin's wheel. Now, Justin has once again attacked the pack and ridden away from us, creating a gap that we can't close, not anytime soon anyway – hopefully.
I would like to close with one final thought that I think really sums up the way Justin lived his life.
Earlier this summer, as I was preparing for the Tour of Kansas City, I came across Justin's registration for the race weekend. Justin had done plenty of work on my bikes over the years and I wanted to do a little something for him in return.
That night, at our weekly group ride, I told him that I had refunded his fees since he had done so much work for me.
"You didn't have to do that," he responded.
When I told him it was the least I could do, he said something that has stuck with me ever since: "I am not worried about the money. If money is what you need to be happy, you are doing it wrong."
That is who Justin was.
The best way to honor Justin's memory is to live our lives as he lived his – full of life, full of friendship, full of family, and full of fun.
So whether it is on the bike, or in life, offer a helping hand to someone who needs it. Offer a word of encouragement when you see someone struggling, and when all else fails, place your hand on their back and push them up that next hill. Everyone needs a little help now and then; everyone needs a friend. Be that help, be that friend, be Justin.