Last fall we received several pairs of Swiftwick socks for an article about the technology and features built into the socks. For detailed review of the technology and features of all of Swiftwick's product lines, take a look at our tech article.
Since receiving our socks, we have been putting them through the paces. We have had the privilege of testing out  three pairs of the socks, one each of the Aspire Zero, Aspire Seven, and Aspire Twelve. Each of the three socks are made with Swiftwick's compression technology, moisture management system, and linked-toe technology.
Swiftwick Aspire
The Aspire Zero is Swiftwick's ankle-length pair which is perfect for those looking for a minimalist sock that is thin, short, and light.  The Aspire Twelve boasts a 12 inch cuff that extends to just below the knee. The Twelve offers compression for the entire lower-leg while the Aspire Seven mid-calf sock finds the middle ground between the other two heights that we tested.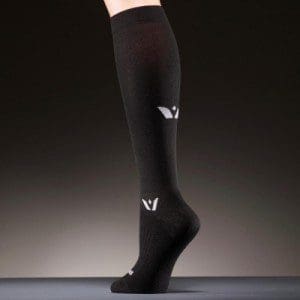 The socks have withstood thousands of miles of riding in a variety of conditions taking everything the Midwest weather can throw at them including extreme heat, cold, and rain. We have worn these for both road and off-road riding and racing.
Comfort and Performance
All three of the tested socks are very comfortable. Their snug but comfortable fit prevents bunching in the shoe or sliding of the sock cuff. Friction inside the shoe has become a distant memory. The sturdy construction means these socks feel as great as the first time we slid a pair on our feet.
The moisture-wicking properties of the sock's olefin fibers fibers is fantastic. The socks do a great job of  keeping the feet dry. This helps prevent blisters from forming and keeps the feet feeling fresh on long rides.
The Swiftwick socks are made with a 200 needle count which lends to their sturdy construction. The tight knit is a blessing when it comes to keeping small foreign debris from penetrating the sock and irritating the feet. The sock just feels heftier than many other socks we have worn yet they retain a light and thin feel that you desire in a cycling sock.
The compression qualities of these socks is great. Did we  have, "improved blood flow and circulation" or "extended performance"? Well we can't say for sure but what we do know is that it feels great. The light compression offered by the socks feels particularly great through the calf (for the Twelve) and especially around the arch of the foot.
The Aspire Twelve compression socks have quickly become our all-around favorite cycling socks. The compression fit is snug but not too tight, making them very comfortable to wear. They provide a plush feel you would expect from much thicker socks without causing the foot to feel cramped inside the cycling shoe. While they are tall, we can even wear them on the warmest of days without feeling overheated. Their moisture-wicking properties work very well, keeping our feet dry while the blister-free properties help to eliminate hot spots on the foot.
The Swiftwick Aspire socks are like a great big hug for your feet. And in the case of the Twelves, your calves get some love too.
Price
Yes, some might scoff at spending close to 40.00 for a pair of sock, but the pricing of all of their socks are right in line with the costs of many other cycling sock brands out there.  The Aspire line ranges from 12.99 for the Zeros on up to the 35.99 price tag for the Twelves. The excellent performance and high quality craftsmanship is what makes these socks a great value and a needed addition to any cyclist's wardrobe.
Conclusion
What we have found is that now, despite a drawer full of socks, we rarely reach for anything other than our Swiftwick socks. The comfort, fit, and quality are all top-notch. So much so, they have become our go-to socks in all conditions. The socks feel so good on our feet in fact, many times we don't even change out of them immediately after a ride.
We are definitely going to have to buy a few more sets of these socks since we are pretty sure there has been an increase in our water bill, which may or may not be due to the extra loads of laundry we are doing to make sure these socks are ready for our next ride.

Swiftwick has added several new colors to their Aspire sock line this year
 Overall, we are very happy with these socks and  haven't found fault with them yet. They perform marvelously with great moisture-wicking capabilities, superb comfort, great compression technology, and sturdy construction. The best test for us is, "Will we buy more of the product", and we can honestly say that the next time we open our wallets for new socks, the receipt will say Swiftwick.
For full disclosure, we were provided complementary items for testing  as we are for some of our other reviews. Receipt of such items in no way influences our opinions of reviewed items as we strive to give fair and  impartial information for our readers.
Read our other Cycling Product Reviews
Photos: Swiftwick