Ameren is set to donate 144 miles of Rock Island Trail corridor to Missouri State Parks by the end of this year, to become Missouri's SECOND cross-state trail. But–Gov. Greitens and State Parks leaders have recently said the Governor is UNDECIDED about whether or not to accept the trail–a gift to the state worth many millions of dollars.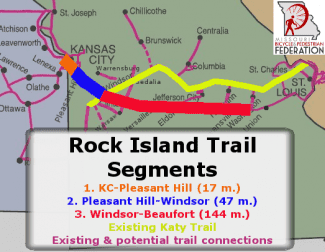 The survey was created to help Governor Greitens make his final decision about the Rock Island Trail. We have just heard from officials that the current number of survey responses is far too few to tip the Governor's decision in favor of the trail. We need 20X or 50X the number of survey responses to tip the balance.
So please take two minutes to complete the survey now. Please invite all of your family members and friends to complete the survey. Please share the survey (or this message) any way you can.
We need an outpouring of support for the trail to save it. Please help!
Your message can be simple–no lengthy, detailed essays needed.  Just copy & paste.
Because what we need now is not eloquence, but an outpouring of support from many, many thousands of people from around Missouri and the world for one simple message: "Please accept the Rock Island Trail."
This is one time when your voice–together with that of thousands of other ordinary citizens–can really, truly make a difference. All the details and background information on this important issue are on our website here.
But please, for now:
—-> Click here to complete the Governor's Rock Island Trail survey
—-> One simple message: "Please accept the Rock Island Trail."
The Missouri Bicycle and Pedestrian Federation
Making Missouri a Better Place to Walk and Bicycle.
www.mobikefed.org | @mobikefed | facebook.com
1709 Missouri Blvd Ste C #200
Jefferson City, MO 65109-1733
Photo: By Thundercloud556  via Wikimedia Commons