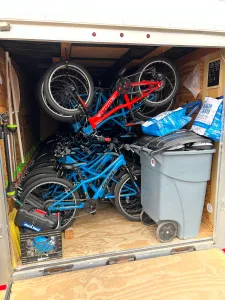 BikeWalkKC, a non-profit organization in Kansas City, Missouri, is seeking help after a trailer filled with 15 bikes and other equipment was stolen from their office on the night of March 6 or the early hours of March 7, 2023. The trailer and bikes, scheduled to be delivered to a school on March 9 for an upcoming program, are a huge loss.
The organization has asked the public to be on the lookout for the trailer, which is black on the outside and measures approximately 7'x12′, with a Missouri license plate number 02L0YL. The bikes were part of BikeWalkKC's Safe Routes to School and youth development programs, which serve thousands of children in urban and high-poverty areas in the region.
The theft of the trailer and bikes is a significant blow to BikeWalkKC, as they have a full schedule of schools ready for their spring bike programs. According to BikeWalkKC's website, they need to raise $28,000 to replace the stolen trailer, bikes, helmets, and other items that were inside.
If you see the trailer or have any information about its whereabouts, please contact KCMO police at 816-234-5510 and refer to case number KC23014164. Additionally, BikeWalkKC has set up an online donation page where concerned citizens can contribute financially to help the organization recover from this loss.
BikeWalkKC's mission is to make Kansas City a safer and more accessible place to walk, bike, and live. The organization promotes biking and walking as safe, healthy, and environmentally friendly transportation options. In addition to their Safe Routes to School and youth development programs, they also offer adult education courses, community events, and advocacy efforts to improve infrastructure for pedestrians and cyclists in the area.
The theft of BikeWalkKC's education trailer is not only a financial loss but also a loss for the community. The bikes and equipment inside the trailer were meant to be used to inspire and educate children about the benefits of biking and walking and to promote healthy and sustainable transportation options. Anyone with information about the trailer's whereabouts or who wishes to contribute to the recovery effort can do so by contacting the KCMO police or donating on BikeWalkKC's Donation Page.