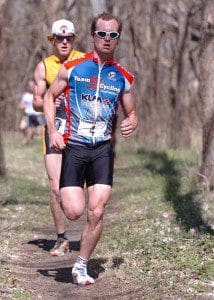 This month brings some great multi-sport and mountain bike racing to Kansas. The 11th edition of the God's Country Fat Tire Festival will take place on the weekend of March 23rd. This event has become very popular and has grown tremendously since the first edition was held over a decade ago. What started as a duathlon has now become a weekend-long festival consisting of both a duathlon and a mountain bike race.
The God's Country Duathlon will take place on Saturday, March 23rd at the Lawrence River Trails in Lawrence, KS. There are a variety of classes as well as both long and short course options. God's Country Mountain Bike Classic, also held on the Lawrence River Trails,  will take place on Sunday, March 24th. This race serves as the Unified Federation of Dirt's XC season opener.
We had the chance to sit down with Chris Locke, promoter of the event and president of Cow Town Cycling Team, for a question and answer session about the festival. We wanted to know more about his event as well as the state of area mountain biking. Chris talked to us  about the history of the event as well as big plans for the future of the God's Country Fat Tire Festival.
How has your event changed since the first edition?
"The first God's Country was held over in Clinton Lake State Park. We only had a Duathlon event back then that was a Run/Bike format. The trails back then were much more technical and only about 30 people show up to race. We have since moved the event to the Lawrence River Trails which are much more beginner friendly and super fun."
What makes your God's Country different from other mountain bike events in the area?
"We make it a two-day festival that caters to any off-road enthusiast. An off-road Duathlon as well as a traditional cross-country mountain bike race is held over the weekend. As usual we have custom awards, t-shirts, free food, music and tons of free photographs."
What has made your event a success?
"One key to a successful event is having a great course. The Lawrence Mountain Bike Cub has provided one of the more popular trail systems in the area. Both beginners and expert alike enjoy the Lawrence River Trails. The other key ingredient is the volunteers and the support from my family, friends and team. Without them these events would not take place."
What are your hopes for the future of the event?
"I would like to see the God's Country Fat Tire Festival grown into a mountain bike stage race. Next year we may even be part of the American Mountain Bike Challenge."
In regards to mountain biking in general, how is the mountain biking scene in the area? Do you think it is moving forward and growing?
"Overall I see a growth on the mountain bike side. Some of our events the upcoming Bone Bender 3/6 Hour MTB Odyssey have nearly 300 participants. There is still room to grow and the formation of the Unified Federation of Dirt is step in the right direction. Next step would be a more formal organization like a local association with series' awards and sponsors. The Wisconsin Off-Road Series is a model for this."
What advice would you give to a first-timer thinking about trying out your event?
"We have actually brought back a First Timers division for this year. This is a low-key event for riders who want to give mountain bike racing a try. As a big plus, the trails at the Lawrence River Trails are very beginner friendly and offer the ideal venue to first time participants. I know once they give it a try they will be hooked."
For Information about the event and registration visit the links below: