Jakroo Custom Apparel is a custom clothing company that produces cycling, running, tri, and nordic apparel. Our testers have been using Jakroo apparel as part of our sponsored race team for the past two seasons now.
There are many quality brands out there but here is why we like Jakroo:
Selection
Jakroo offers a wide selection of cycling and non-cycling apparel. Many of their kit pieces are offered in several models, sizes, and fit options.  You will  be hard pressed to not find a size and fit that works for you. Many of our riders have found that their kits are more comfortable, durable, and fit better than a majority of other kits they have ridden and raced in.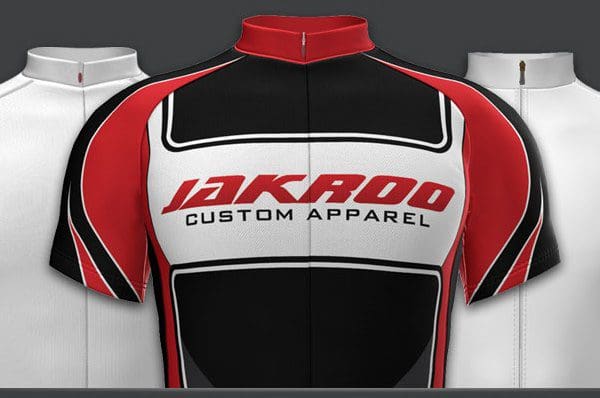 Quality
After two years of use, even our older kits are still going strong. They offer standard fibers and chamois or you can choose upgraded options for some of the clothing items. We highly recommend the upgraded chamois, your butt will thank you. The upgraded chamois has lasted through thousands of miles of riding and continues to provide enough comfort to continue using the shorts even after two years of riding. The stitching is solid. We haven't had any issues with seams coming apart as we have had with other kits from other brands in the past.
Functionality
The Jakroo kits offer great functionality. Pro series products include fabrics with "targeted functionality"; Mesh panels in back allow heat to vent while tighter knit on the front protect the rider from chilly winds.
Jakroo's shorts stand out as a cut above the rest. One of our favorite features is Jakroo's Finished Edge Power Bands. These are by far the best grip bands we have had on any of our shorts. The shorts securely grip the legs without creating any pressure points or overly constricting the muscles.
Here is a run-down of some of their available fabric technologies:
AIR-SURF fabrics are designed to improve comfort through wicking moisture away from the skin. They use specially engineered polyester fibers that improve permeability and overall comfort compared to natural fibers like cotton. The mechanical structure of the fabrics also provide useful properties such as resistance to fading, shrinking and wrinkling.
The fabrics in the AGRAVIC category are ideal for intense sports such as hiking, cycling, running where breathability, protection from wind and light rain are critical. The microfiber material construction provides all these features in lightweight packable product.
ST-POWER fabric provides the maximum stretching up to 500% without tearing, and it recovers back to its original shape after repeated stretching. In addition, ST-POWER provides a soft, smooth and supple comfort with its lightweight, anti-static and anti-pill technology. Lastly, the fabric is resistant to body oils, lotions, perspiration and detergents.
SKINNESS TUTORIAL™ THERMOX guarantees protection from the elements in colder weather. 3-layer construction soft shell fabrics are soft, lightweight, waterproof and durable.
Customer Service
We have had pretty good customer service experience with Jakroo. They offer free design services (up to 2 redesigns and then 25.00 each after that). This comes is especially handy if you lack design skills and need help coming up with a design for your kits. Jakroo usually is great about responding back to emails and telephone calls. Their turn-around for designs and redesigns is really good as well.
Pricing and Ordering
There are no minimums. This is great for small teams or clubs. This is custom clothing so it is always going to run a little more than off-the-shelf merchandise, especially for small orders. Jakroos prices come down significantly as your order size increases.  You can view their Pricing Chart to compare their prices. We have found their prices to be right in line with other brands of clothing manufacturers.
Jakroo also offers easy ways to order and re-order items. Team and clubs can submit a group order (or several throughout the season). However, you don't have to wait for a bulk team order to re-order items. Individuals can simply follow their team link to their own team store. Once there they can reorder as many, or as few, items as they need, anytime during the year. If you get your order place by the 7th of the month, it will be delivered by the end of that same month. It doesn't get much easier than that.
Overall, Jakroo comes in as one of our top brands for custom cycling gear. Ease of ordering and custom orders for as little as 1 item make it easy for any size team or club to have custom kits made. The optional design assistance is a must for those of us with the artistic talent of a rock.