Revolutionary wearable tech product delivers critical information at a glance
Vancouver, Canada (April 16, 2015) – Recon Instruments, the award-winning technology company behind the world's first consumer smart goggles for sports, is pleased to announce Recon Jet, an advanced wearable computer for sports and outdoor recreational activities. Jet will begin shipping this week. Featuring a dual-core CPU, high-contrast display and point-of-view camera, Jet connects seamlessly to leading smartphones and wearable sensors, delivering contextually relevant information instantly, just below the user's right eye. The product is purpose-built for active outdoor use. Elegant and robust, Jet is lightweight, provides outstanding comfort, and is resistant to both water and dust. Jet's design is modular, as well; exchangeable lenses make it ideal in any lighting condition, while the battery can be easily swapped on the go for all-day performance.
"With Jet shipping today, we've achieved a huge milestone: delivering on an idea first conceived in 2008, when Recon was founded," said Dan Eisenhardt, CEO of Recon Instruments. "The product is about more than real-time data delivery. We've addressed the entire in-activity experience, coordinating performance metrics, smartphone connectivity, video and photo capture, social interactions, and instant content sharing in its design. Jet's feature set is built for running, cycling, and outdoor activities, both serious and recreational, with the goal of helping users not only perform better, but also find amazing motivation and enjoyment."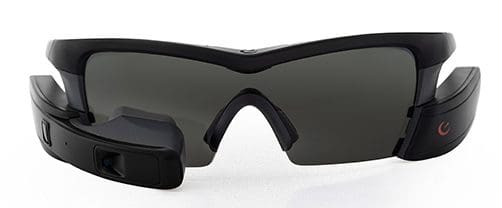 Recon Jet's comprehensive suite of on-board sensors, including GPS, delivers a full portfolio of performance metrics like speed, pace, distance, duration, vertical elevation gain, and more, while extra data points can be added by connecting wireless third-party devices (via ANT+™). This allows users to access heart-rate and cadence metrics in real time. Power will be added shortly following launch. During an activity, Jet allows the user to stay connected effortlessly to friends and family, displaying caller ID and text messages from a paired smartphone. Jet's built-in point-of-view camera is instantly accessible to shoot short-form HD video and still images. While Recon has developed its own Recon Engage web platform and mobile apps for iOS and Android, a user's stats can also be uploaded easily to leading third-party data tracking services including Strava™, Training Peaks™, MapMyFitness™, and others.
"For outdoor activities, Jet is the next revolution in driving workout enjoyment, motivation and performance," said Eisenhardt. "In the 1980s and 1990s, the introduction of portable music via the Walkman™, MP3 player, and iPod™ changed the game for many athletes, boosting motivation and making fitness fun again. Today, Jet delivers a level of instant data access, connectivity, and motivation that will raise that bar to another level."
"From the beginning, our design philosophy has been athlete-centric and activity-specific. We do not believe in generalist use cases for smart glasses. What really matters to the user when running or cycling? What will truly make a difference and add value to their experience? Every aspect of Jet's design focuses on answering those questions," said Eisenhardt.
The customizable dashboard lets users tailor their experience by displaying the information that matters to them most. This constant awareness of the right information, at the right time, allows users to fine-tune their workouts by closely tracking target performance levels. Measurable achievement helps users stay motivated, and Recon's online community of family, friends, and fellow athletes bolsters that further, creating an experience that is engaging, interactive, and stimulating.
"We're launching Jet with a feature set built for runners and cyclists, but the opportunity to extend Jet's utility into completely new use cases is enormous," said Eisenhardt.
Recon's open platform and SDK allow developers to create compelling applications for any activity. The possibilities are limited only by the developer's imagination. Even at this early stage, apps that power recreational sailing, performance yacht racing, shooting, and private aviation are in development.
Recon Jet includes a dual-core CPU, a point-of-view camera, GPS, Bluetooth Smart, ANT+™, Wi-Fi, and a 9-axis sensor suite, making it a stand-alone computing solution equivalent in power to a typical smartphone. The electronics are distributed across the eyewear, ensuring the device is well-balanced and comfortable to wear even during long workouts. Jet is controlled by a touchpad and intuitive rocker button designed for use in all weather conditions, even with gloves on. Its design is modular, allowing batteries and lenses to be swapped easily. Jet is available in select specialty running, cycling, triathlon, and outdoor stores, online at Amazon.com (USA only), and at reconinstruments.com.
Retail price: USD 699