Leamington Spa, August 23rd 2016 – British bike security brand, Hiplok, is today launching a Kickstarter Campaign to bring the world's first high security bicycle storage hanger, AIRLOK, to market. Combining Gold Rated security, effortless practicality and design elegance, AIRLOK is the ultimate way to display and protect your bike at home, outside or at your workplace.
AIRLOK has been designed to the maximum Sold Secure Gold rated security level. Secure wall fixings, hardened steel framework and a secure lockable bolt combine to keep your bike safe while displayed on your wall. The addition of an impact resistant outer casing further prevents access to the framework and fixings.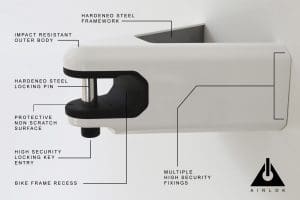 The patent pending design is both functional and elegant. AIRLOK's unique triangular shape provides stable storage for multiple styles and sizes of bicycle while the fully rubberised mouth prevents frame scratch and further adds to stability. Available in a choice of colours, the combination of clean lines and quality materials make the AIRLOK the ultimate display option for your bike while the inclusion of three coded replaceable keys maximises practicality.
In 2011, Hiplok revolutionised cycle security with the original wearable bike lock. Now with an award winning line up of bicycle locks trusted by riders around the world, the security experts at Hiplok are revolutionising bicycle storage with AIRLOK.
Hiplok co-founder, Ben Smith, commented "When we started Hiplok, we set out to solve real world problems encountered by cyclists. To date there hasn't been a stylish yet secure means of storing your bike – the choice has been unsightly ground anchors or beautiful wall hangers with no security. AIRLOK solves this problem combining top level security with elegant, functional design."
For more information and to support the latest industry-leading product from Hiplok, please visit the Hiplok Kickstarter Page.