Jens Voigt Goes Out on Top – Sets a New World Hour Record
Jens Voigt, known as the toughest man in cycling, showed just how tough he is today. Just one day after his 43rd birthday he added an exclamation point to the end of a storied career on the bike by beating, and then destroying the hour record. Jens needed to complete 199 laps in exactly one hour to take the 49.7km record held by Russian Ondřej Sosenka. Expectations were high and most observers cautiously believed that he would indeed become the new record holder. How could he not? He had made a career out of riding off the front of races, leaving behind some of the biggest names in cycling. Those that tried to go with him, or attempted to chase him down, usually suffered for it, greatly.
Voigt set off at a blazing pace, for the first 30 minutes he managed an impressive average pace of 31.5 mph. Lap after lap he was consistently faster than planned. As time ticked away Jens pedaled his way closer to the record. The fast start gave Jens a comfortable margin of error and he began to slow into a more "comfortable" pace somewhere near the halfway point of the race.
About 30 minutes into the record attempt Jens started to adjust on the saddle, a indication that he might be feeling a bit uncomfortable from the effort. But the crowd was roaring and Jens clearly fed off of their energy. He really never looked like he was suffering and kept up with his targeted pace every lap. The goal was 18 seconds per lap and Jens nailed it, every lap.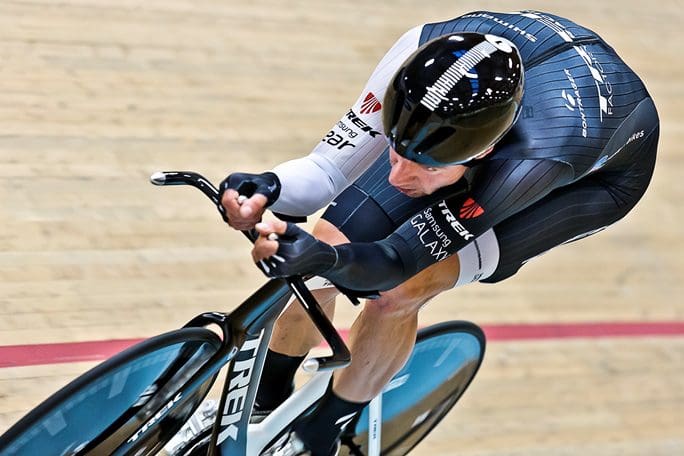 During the final 20 minutes of the race Jens actually began to speed up again, his average speed was increasing and it was clear he was going to leave everything on the track. He began to jump out of his saddle to squeeze every ounce of energy out of his legs. It was almost as if he was enjoying it and if there was anyone who could possibly enjoy this, it would be Voigt. The spectators loved it and they jumped to their feet, urging him on to victory.
As time was running out it was obvious that, barring any mishaps, Jens was going to be the new World Hour Record holder. What wasn't clear was just how much distance he would add to the old record. When Jens cleared 199 laps he still had plenty of time left on the clock to do some damage. The laps continued to tick off as the final seconds wound down. 200, 201, 202 and finally after completing over 205 laps, the new World Hour Record was set at an impressive 51.115 km. Jens pumped his fist in the air as he came around the track, knowing that his name would now be included among the pantheon of Hour Record holders.
It was a bittersweet victory though. The winning of the World Hour Record also marks the end of Jens Voigt's racing career. At 43 he has ridden longer and harder than most racers could ever dream. He has left an indelible mark on the cycling world and it is unlikely that we will see a rider of his talent, dedication, selflessness, and charisma in our lifetimes. He is universally loved in the cycling world. His competitors surely feared him; but they might take some comfort in knowing that he has now, in his pursuit of the World Hour Record, at least had a taste of the suffering that he has inflicted upon so many of them over the course of his career.
Photos: Ulf Schiller schillerphoto.com